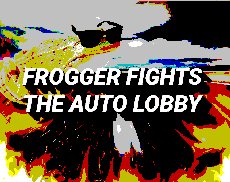 FROGGER FIGHTS THE AUTO LOBBY
BASIC INFO
this frogger fangame/parody was made for the bitsy frog jam. this is also the first bitsy game i have completed, so it was an interesting experience to put together.
you can use the arrow keys, or the wasd keys to move around, oh and be sure to interact with everyone in the game.
fun fact: i was watching atari 2600 frogger gameplay when i came up with this game's concept.
SUMMARY
in this game you play as frogger, who finds out that there's a big corporation with big bad plans for his town that have gotta be stopped...by any means necessary.
and so, frogger becomes an action frog and saves the day.